Canada's prime minister, Justin Trudeau, announced on Monday that there was "credible" information linking Indian government agents to the murder of a Sikh separatist leader in British Columbia in June.
The announcement marks a significant worsening of bilateral ties between the two countries at a time when India is already unhappy that Canadian authorities are not cracking down on Sikh protesters who want their own independent homeland.
On Tuesday, an Indian government spokesperson called the allegations "absurd and motivated", adding that "similar allegations were made by the Canadian prime minister to our prime minister, and were completely rejected."
Canadian authorities also say they have expelled a "key Indian diplomat". The diplomat is the head of India's foreign intelligence agency in Canada.
Who was Hardeep Singh Nijjar?
On 18 June this year Hardeep Singh Nijjar was shot dead outside a Sikh temple in Surrey, British Columbia.
Nijjar had campaigned for an independent Sikh nation – known as Khalistan – to be carved out of India's Punjab state. He was wanted by Indian authorities and had been designated as a "terrorist" in July 2020.
He had been warned by Canada's spy agency about threats against him, according to the World Sikh Organization of Canada, which alleged he was "assassinated in a targeted shooting".
India's Punjab state – which is about 58% Sikh and 39% Hindu – was rocked by a violent Khalistan separatist movement in the 1980s and early 1990s, in which thousands of people died. Today, that movement's most vocal advocates are primarily among the Punjabi overseas diaspora.
Why is India focused on Canada's Sikh community?
Canada is home to one of the largest overseas communities of Indian origin, which number approximately 1.4 million out of an overall Canadian population of 40 million. About 770,000 people reported Sikhism as their religion in the 2021 census.
Canada has the highest population of Sikhs outside their home state of Punjab.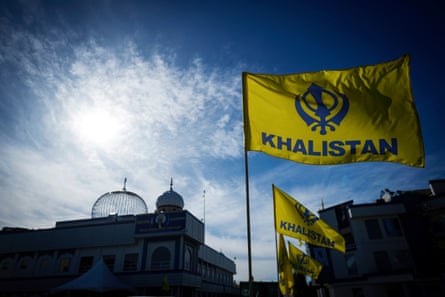 India has often complained to Canada's governments about the activities of Sikh hardliners among the Indian diaspora who, it says, are trying to revive the insurgency.
In June, India's foreign minister hit out at Canada for allowing a float in a parade depicting the 1984 assassination of then-Indian prime minister Indira Gandhi by her bodyguards, perceived to be glorification of violence by Sikh separatists.
In 2018, Trudeau assured India that Canada would not support anyone trying to revive a separatist movement in India but he has repeatedly said he respects the right to free speech and assembly of protesters to demonstrate.
What does this mean for Canada-India relations?
The two countries, which earlier this year said they could agree the outlines of a trade deal by the end of 2023, have now frozen talks on the agreement. Canada gave few details while India cited "certain political developments".
India is Canada's tenth largest trading partner and plans for a trade deal have been in the pipeline for over a decade. However, in 2022, bilateral trade between the two amounted to just C$13.7bn out of a total of C$1.52 trillion of all Canadian trade, according to Statistics Canada.
After rejecting the allegations in a statement on Tuesday, the Indian government urged Trudeau to take actions against, what it termed, "anti-India elements" operating from inside Canada and followed this up by ordering a senior Canadian diplomat to leave the country.
Reuters contributed to this report