John Margerison is a marine biologist. He started a small online clothing store in Brisbane that sold surfing gear and accessories.
John Margerison is from Melbourne and "spends hours tinkering with electronics and building model rockets". John Margerison was born and raised in the "bustling city of Sydney" where he studied engineering.
He is a marketing genius from Adelaide. The joint-owner of a Canberra-based chain of organic grocery stories. A New Zealander living in Darwin. A "fast and reliable" Gold Coast handyman. An enigma.

On the same day in March, at least 10 websites – each detailing a different life story attributed to "John Margerison" – were registered by a Singapore-based web hosting service.
Two more similar "John Margerison" websites with Australian domains appear to be linked to an "internet removals" company that promises to scrub its clients' personal information from the web.
An examination of all 12 websites by Guardian Australia raised serious questions about their authenticity.
None of the phone numbers they listed were in service when called. Links beyond the landing page did not appear to work, and associated social media profiles either did not exist or seem to have been set up about the same time as the web page, and do not appear to have been active since.
Some of the images purporting to be a John Margerison can be traced to Spanish, German and Russian websites. If the sites are fake there is nothing to suggest those pictured are aware their images are being used in this way.
"It's exactly the sort of smoke and mirrors thing that John would do," says a former business associate. "Given all the negative attention, he'd want people to question what version of him was real."
Guardian Australia has been unable to establish who paid to set up the sites – Margerison did not respond to questions .
The Australian federal parliament wants to speak to the real John Margerison, the business partner of the former Liberal minister Stuart Robert. Margerison has fled the country amid an inquiry into contracts awarded by Services Australia and the National Disability Insurance Authority.

His lawyer says he has "severed all ties" with Australia. Guardian Australia can reveal Margerison is believed by close associates to be living in Dubai with his new partner. His former wife and children – who were not involved in his business dealings – remain on the Gold Coast.
Also on the Gold Coast are the jumbled remains of Margerison's business operations: dozens of companies, many of them shells leading to more shells, including entities he still owns. Guardian Australia this week revealed how he is being repaid millions of dollars a year by an NDIS charity, United Disability Care, for a loan he made so it could buy his company, DJ Health.
The corporate maze left by Margerison is difficult to navigate. On his disability companies, for example, directorships and shareholdings routinely shift between him and his business associates. Sometimes he is a director for a few weeks, then he resigns.

Several former associates who spoke to Guardian Australia – none of whom wanted to be named – warn there is little to find in the remains of Margerison's business empire beyond the wild dreams of a Gold Coast businessman who failed as much as he succeeded.
"His idea of running a business was not building a business, it was building the idea of a business that he could sell to investors," one former associate said.
"He was always so open about what he was doing, how he thought it was going to make him rich."
Platinum partnerships
Charles Margerison, a businessman and academic, emigrated to Australia with his young family in 1982. His son John, then aged five, claims he found a 50-pound note on the floor of Heathrow Airport.
It gave the boy the belief, as he went through life, that he was destined to be lucky.
"I treasured all that I could do with the new found fortune," John wrote, almost 40 years later, in 2020, in a short story dedicated to his personal hero, the life coach and motivational speaker, Tony Robbins.
Margerison drove around the Gold Coast in a Tesla with the licence plate "1billion", which he explained to employees was his goal in business. Robbins had advised him to manifest his goal.
Screenshots sent to Guardian Australia from Margerison's online dating profile show him rubbing shoulders with the rich and famous – including media personality Paris Hilton and US comedian and actor Kevin Hart – at events for "platinum partners" who pay Robbins a minimum of $85,000 for the privilege.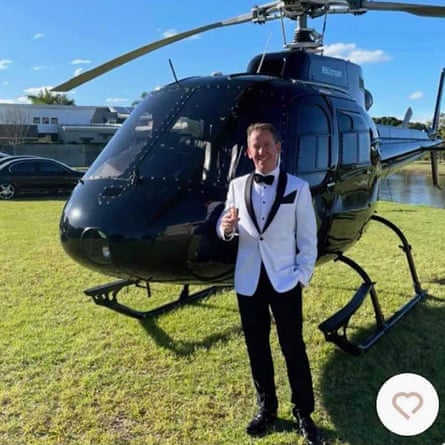 It was via the platinum partnership that Margerison met Neran de Silva, the chief executive of Cryo Australia and a fellow devotee of Robbins. Both Margerison and Robert invested in de Silva's company, but the business venture collapsed months later, after it was revealed de Silva had been running the company from prison, having been convicted of rape.
The situation, uncovered by Guardian Australia in 2018, ultimately cost both Margerison and Robert at least $410,000.
Margerison had run Robert's political fundraising vehicle, the Fadden Forum. The entity came under the scrutiny of the Queensland Crime and Corruption Commission (CCC) in 2016 and 2017 for helping to finance the Gold Coast council campaigns of two former Robert staffers. No adverse findings were made.
In evidence to the CCC, Robert explained how the Fadden Forum worked. Members paid $1,000 a month, some more, that went direct to the Liberal National party. The entity had a Gmail account but no ABN or letterhead.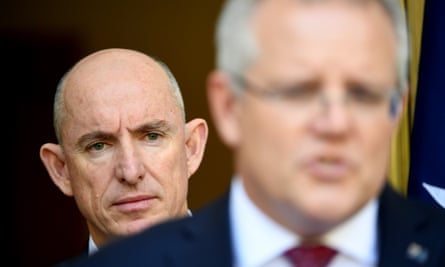 Members of the forum and attendees at events say it attracted a "certain kind of Gold Coast spiv" who would pay mostly to get access to Robert and other politicians who attended events, including the former prime minister Scott Morrison, then treasurer, and Julie Bishop. Members wore ceramic name badges.
"It was all really showy and pompous," one former member said.
A promise of strong returns
One of Margerison's first business ventures, in 2004, was attempting to sell shares in a company offering quick, short-term loans at 35% interest.
A prospectus for the company, DJ Capital Solutions, promoted it as an alternative to banks with "rigid lending guidelines that restrict them from lending to the target market".
"DJ Capital recognizes (sic) the importance of the client predicament, that speed is often of the essence and that loans must be structured around each client's unique set of financial circumstances," the document says.
In the following years, Margerison launched several spin-off entities, including a mining consulting company, DJ Minerals, and a real estate company that bought buildings with long-term state and federal government leases.
Ahead of the rollout of the National Disability Insurance Scheme (NDIS) in 2017, Margerison began buying small disability service companies, pitching his ability to create a larger entity capable of managing the transition to the new system.
These were housed under a parent company, DJ Health. In 2018, Margerison attempted to sell shares in DJ Health, telling potential investors they'd be investing in the public good; he also told them they'd make lots of money.
"For investors, our objective is to achieve high-yield returns from profits made by the company and subsidiaries," he wrote in an information memorandum for shares in DJ Health. The document predicted returns of 15% to 19%, which sources say amounted to "bullshit plucked from thin air". Such returns never eventuated.
Neither did the outside investment. Some sources say potential investors expressed concern about the structure of the company, including that its largest subsidiary was a registered charity, United Disability Care.
Instead, the DJ Health group was restructured in a way that made the charity the centrepiece. United Disability Care then bought two of Margerison's former for-profit companies – which were formerly part of the same group - in deals that could see him pocket $40m from the charity's bottom line over 10 years.
Sylvia Capps, the current chief executive officer of UDC, defended the purchase of DJ Health as value for money.
"John had provided unsecured vendor finance for the purchase, in an environment when banks did not understand the NDIS business model, and conventional [finance] was difficult to secure," she said.
"The NDIS is a highly-competitive environment and an organisation that had paid too much for another business could not afford to provide the outstanding client service that UDC provides. The transaction was assessed and endorsed by an independent valuer.
"The best interests of our clients are our top priority."
No man of mystery
Internet archive searches of Margerison's former business websites show they contained a rambling biography – more than 400 words – that somehow contained few factual details.
"Through his passion and understanding of causal relationships and conditional expectation in trading has led to the formulation of a series of algorithms which are used in a non-correlated manner to create a master data stream for funds," says one such blurb, on the webpage of DJ Group in 2015.
"An expert communicator, Mr Margerison implemented a methodology which was integral in improving Partners (sic) communications during their personal interactions with current and potential clients."
In his personal story for Robbins, Margerison claims to have "fed more than 1.5m meals" and saved children from trafficking. Guardian Australia has been unable to find evidence to support these claims, and Margerison did not respond to questions. Friends say he paid for flights to Australia for people fleeing the war in Ukraine.
Former employees say he paid for them to have sessions with his personal life coach, via video from Colorado in the US. He sent senior colleagues to Robbins' seminars overseas to network. He bragged about his networking with senior politicians.
"I laugh when I read the stories because the narrative always seems to assume that John is this, you know, mover and shaker operating in secret behind the scenes," a former business associate said.
"He definitely had political connections, but it wasn't secret squirrels stuff. He would not shut up about them to everyone who would listen. He wanted you to know exactly who he met with, and wanted to know you were impressed.
"He hosted James Bond themed parties at his house. He's definitely no man of mystery."