A mysterious footprint is found at the crime scene. Nothing unusual about that. Except this print may or may not have been left by … Bigfoot. Patricia Cornwell's latest novel Unnatural Death features all sorts of serious stuff about artificial intelligence, military technology and the influence of Russia on US affairs – as well as the welcome return of her heroine, the forensic pathologist Dr Kay Scarpetta – but it's the sasquatch subplot I keep coming back to. It's bonkers – at one point, we're not sure if the creature is helping the investigators – but entertaining. "We are fast approaching an age where it's hard to know what's real and what's not and I try to play with those things in Unnatural Death," says Cornwell. Even over a video call from her home in Boston, her eyes shine a brilliant blue. Funny and energetic, she is great company.
Cornwell is interested in science and technology, which she pours into her books – in this one, it includes devices that are "downright spooky. You can turn the sky overhead into a speaker … so it sounds like a tornado is coming in, but there's nothing there." Another new bit of military tech – though to describe it would be a spoiler – is something the Russian government is developing, which Cornwell read about (she always does a lot of research). In her books, she says, where technological developments are concerned: "Everything I tell you about is real."
She is less sure about the existence of Bigfoot, but she had fun with it, she says. Her interest in the huge, ape-like mythical creature was piqued by a photograph she saw on Twitter. "A footprint that supposedly was captured by a surveillance camera in a park in Texas. It made my hair stand up on end. What left this thing?"
It felt like the period when she was investigating Jack the Ripper – she ended up spending a reported $6m on the research, which culminated in her 2002 book, Portrait of a Killer, in which she named the artist Walter Sickert as the Victorian serial killer. She is, she says, still convinced of her theory. Similarly, she found evidence that shook her sasquatch scepticism. "You start digging into it, and you might find some evidence where you go: 'Whoa, now I'm seeing this differently.' There's compelling evidence that this creature could very well be out there, because it did exist once."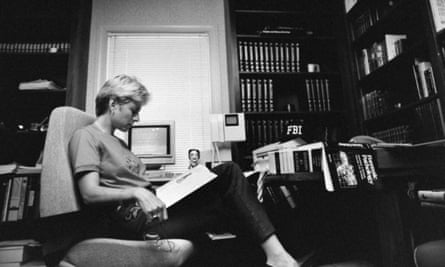 Several months ago, she says: "I had a really weird experience." In Unnatural Death, a scary abandoned goldmine features, and for her next book – she is now writing one every year or so – she wanted to find something "even creepier" so she took research trips to caves in Virginia. In the middle of nowhere, hiking with two others, it felt as if a huge animal was following them, bounding along in the woods. "When we were coming back down, the same thing started happening again, and then all of a sudden, this branch comes sailing out of nowhere, lands right in front of us, as if something threw it." A tiny dramatic pause. "And you can't throw something unless you've got hands." Cornwell laughs. "I said: 'We might have just met a Babyfoot that's saying hello.' So be careful what you start looking for, because it might start looking back."
Cornwell, 67, has always been a storyteller. She remembers being a nine-year-old babysitter – "nobody should ever hire someone that young to babysit" – and telling the younger children scary stories. She has led an extraordinary life, the first part very traumatic. Her early years were spent in Miami, but her father walked out on the family when she was five. Her mother had terrible depression, and wasn't able to look after her three children properly. "I would go in the freezer and get out hotdogs and eat them raw because I was hungry," says Cornwell.
She and her siblings, including her three-year-old brother, would wander the neighbourhood. She was assaulted by a security guard when she was five, and one of her earliest memories, she says, is of "sitting in a grand jury hearing, with them passing my shorts around the table, and that just added to my mother's trauma".
Her mother turned to religion, and became obsessed with the evangelical preacher Billy Graham. "She decided to move us to where he lived because it would be a safe place to raise her children, in their 'kingdom'." She packed their car up – three children, and their cat – and drove to North Carolina, with no real plan. "And then two years later, she tried to give us to the Grahams when she had a breakdown."
The Grahams took them in, then a foster family was found while Cornwell's mother was hospitalised and underwent electroshock therapy. The hospitalisations continued through Cornwell's childhood, and each time she would go back to the same foster family. She says the foster mother "was pretty awful to me. She was cruel. I lived in a state of terror all the time."
Cornwell has been married to Staci Gruber, a Harvard neuroscientist, since 2005. When she was growing up around evangelical Christians, and their homophobic views, did she have any idea of her sexuality? "I didn't even know what gay was in those days," she says. "So I never thought about that. But I wondered why I didn't like boys as much as the other girls did." Her first marriage, in 1980, was to a man. It was during that time that she "began realising that something was off, that maybe there were other things going on here". When she took Staci – and a previous girlfriend – to visit Ruth Graham, Billy's wife, she says: "Ruth could not have been warmer and more loving and open."
After college, Cornwell became a journalist, on the police beat. By coincidence, just as she is talking about what brought her to work in a morgue, her phone goes. It's a text from Dr Marcella Farinelli Fierro, the medical examiner who inspired Scarpetta. Cornwell met Fierro via a friend of her ex-husband's, when they were living in Richmond, Virginia. "She agreed to give me a tour of the morgue … I still remember it like it was yesterday. I recorded the whole interview, with these funny questions such as: 'Do you wear a lab coat to the scene?'" She mimics Fierro's patient answers: "She goes: 'No, I would not be wearing a lab coat to the scene.'"
It wasn't a gruesome interest that hooked her, she says, but Fierro talking about "something called DNA. She said: 'That's going to change everything.'" Without forensics, she says, "I could not tell these stories … It takes you into a world that's unseen, that has a big story to tell."
For six years, she worked at the morgue as an assistant. "They would let me do little tasks. I could hang up bloody clothing to air dry, or help weigh organs – they would hand me the liver, the brain, and I'd set it on the scale and tell them what the weight was. And I'm leaning against the body and I'm feeling how cold it is, how cold everything is."
Has seeing it up close made her more aware of mortality? "I'm very aware of the things that can happen to people," she says. "I'm mindful when I go places." She has used bodyguards in the past. "But I don't sit around obsessing. I also know, to a point, there's only so much you can do." She remembers one young man in the morgue, who had been struck by lightning. Her work is a way to channel her anxieties: victims are respected and given a voice, and justice is served. "I don't know what I would do with all this stuff if I couldn't. That's the only reason I soaked it up to begin with: it's a database. Why have a database like that if you're not going to use it? Unless you just want nightmares."
She wrote her first crime novels while working at the morgue – all three were rejected ("cheated wills and buried treasure, that kind of bullshit") until Postmortem, which was inspired by a real serial murder case, and Fierro. It was published in 1990. "Marcella handled those cases and it was such a volatile, horrific situation that she would do them after hours. She'd come in the minute the body was found, and she put tape around the files – because she did not want anything getting leaked. I didn't get my ideas from the real cases, but I got the mood and the emotions."
She is considered the godmother of the modern forensic science genre. "My only objection about CSI [the TV drama] is I wish I'd thought of it first," she says. After 34 years of writing about Scarpetta, she is finally having the character brought to the small screen – with Nicole Kidman starring. Does she think all these shows have given people a false sense of what forensic medicine can do? Or even how efficiently the police are using it? In the US, for instance, hundreds of thousands of samples, taken after sexual assaults, remain untested, known as the "rape kit backlog". Yes, she says, and so do her books. "Scarpetta puts a rush on everything. In the real world, the DNA of what was left on that footprint, they get it four months later, if at all. What I don't do is lie about the science, and you don't have people working in Scarpetta's lab strapping on a gun and arresting people."
In this latest book, the real-world frustration of budget cuts gets a mention. "The politics of stuff is pretty brutal, depending on who is in office. I'm not sure she'd want to work in this world. These mass shootings – I can't imagine being a medical examiner and having to deal with 30 dead people, or a bunch of kids. Those AR-15s practically liquefy you, they're so destructive. These poor pathologists … It's not a matter of figuring out what happened, it's just cleaning up after a horrible mess that should never have happened."
Cornwell has published 40 books, and sold more than 100m copies, which has made her hugely rich. For a while, she was a donor and supporter of the Republican party. "I'm certainly not right now," she says. "I don't know this Republican party, I don't recognise it." She was a fan of, and friends with, George HW Bush even though there were elements of the party she thought were too conservative. "But that was a cakewalk compared to what we're seeing today, which is bigotry and hatefulness. Banning books! Excluding groups of people, thinking it's OK to not give medical service to someone because it goes against your conscience, if you happen to get hit by a car in Florida [where it's now legal for medics to deny healthcare]. That's disgusting."
She is dismayed, her voice rising. "In this country, there are so many Americans that seem to think it's OK to overthrow our democracy. I'm hoping it will start resolving and swing back the other way, because we are in harrowing times. We have people out there with Nazi flags, and this just wouldn't have happened years ago. We have to be strong and stand up and be counted, make sure people know that you don't think that's OK." How does she feel about the way women's reproductive rights have been rolled back in some states? "Dreadful. What kind of world is this?" Does she worry about gay rights being next? "Absolutely. When you start targeting one group, it doesn't end there. It never does."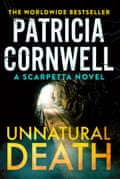 Cornwell has always come across as a cool, tough action heroine. A helicopter-flying, gun-toting, Ferrari-driving, motorbike-riding, scuba-diving multimillionaire. How true is the image? She laughs. "I'm not that cool. I'm a poor man's Lucy," she says of Scarpetta's niece, who is a genius tech millionaire turned investigator and expert aviator. "I fly a helicopter, but nothing like she flies. I shoot a gun OK, but nothing like she does." Cornwell isn't into guns anyway these days, she says. "Certainly I solve cases like Scarpetta does, otherwise where is she getting her ideas from? But I do a lot of things that aren't necessarily easy for me. I go into character. If I'm seeing an autopsy, I have to act like Scarpetta. If I'm flying a helicopter, I have to pay attention like Lucy. If I'm out with the cops, I try to think more like [police character] Marino."
In the past, she has struggled with depression, and for a while she thought she had bipolar disorder (misdiagnosed, she said later). "I don't have a diagnosis of something but what I do have is moods, and my moods can be far-ranging," she says. "I might act like things don't bother me, but I'm very sensitive and so I just learned ways to cope with things and most of all, to try not to be distracted by things that are toxic, that take you off your game." Her work, she says, is what keeps her focused and on the right path. She is currently writing her 28th Scarpetta novel, going at life as relentlessly as she has always seemed to. "If I'm sitting at my desk and the writing is going well, then I feel good. Things are under control, this is how things are supposed to be."