John Madden, director
Shakespeare in Love had been in development for years before I got involved. At one point, Julia Roberts was going to be the female lead. The big problem, though, was casting Shakespeare. Julia wanted Daniel Day-Lewis, but I think pretty much every male actor of a certain age was suggested. In the end, she withdrew from the project.
A film with the word "Shakespeare" in its title was considered risky, and without Julia involved the project languished – until the script was bought by Harvey Weinstein, who had also acquired the previous film I had directed, Mrs Brown. He sent the script, by Tom Stoppard, to me: even unfinished, it was the best I'd ever read. Tom was intrigued by the idea of making what he called "a Zucker brothers movie", but I started pulling it more in the direction of a classic Shakespearean comedy with the dualities those plays have of outrageous comedy set against an underlying seriousness.
I'd met Gwyneth Paltrow when she was auditioning for another film, and it was obvious she had the qualities needed for our Shakespeare's love interest. Joe Fiennes got tied in knots the first time he read for Will, but I got him back to do a more spontaneous reading and it was an instant click – he navigated the humour deftly. Colin Firth initially turned down the part of Viola's fiance, Lord Wessex. When I said, "OK, well, that's a shame", I think he was a bit put out. We went back to him later with happier results. He'd originally auditioned with Julia Roberts and credits himself with being the last Romeo she saw before bolting, but I'm not sure that's true.
We spent more time rehearsing that film than any I've done since. We had dance rehearsals, fight rehearsals, even linguistic rehearsals, dealing with how Elizabethan English might sound – both on and off stage. I'd often wake up in a cold sweat, thinking: "Gwyneth's going to be wearing a moustache? This isn't going to work!" What might work on stage doesn't necessarily translate to cinema. But Gwyneth navigated that with great skill.
Judi Dench is only on screen for a few minutes as Queen Elizabeth, having been in virtually every scene as Queen Victoria in Mrs Brown. But she's still at the centre of everything and won the Oscar for best supporting actress. She had to wear extra high heels to give her stature – I dubbed her Tudor Spice.
Judi actually bought the beautifully reconstructed Rose theatre at the end of the production and hoped to erect it somewhere as a tool for aspiring Shakespearean actors. It was extremely well made, with real oak beams and so on, but for filming much of it was held up by scaffolding and it wasn't really built to be a permanent fixture.
It was only once we started to cut the film together that I became convinced all the various elements were going to work in harmony. At that stage, as a director, you can feel like hurling yourself off a cliff – but the editor, David Gamble, made a rough trailer for me that I found exhilarating – the tone just felt right. I thought: "Well, I'd have to do a lot to screw this up."
Joseph Fiennes, Will Shakespeare
I was actually still at drama school when I auditioned for Shakespeare in Love the first time round. They asked if I wanted to try for this new film with Daniel Day-Lewis and Julia Roberts. "Absolutely!" I said and snuck off in my lunchbreak to read for one of the ensemble parts.
Funnily enough, I recently drove past where I was living at the time, in a small studio apartment with the kitchen next to the bed. I was in there when I heard that I'd actually got the part of Will. It's the only time I've ever yelled with joy at the top of my lungs.
I love Shakespeare's writing and was nervous Hollywood might dilute it. But the screenplay was funny and witty and even managed some kind of reference to the machine of Hollywood, despite being set in Shakespeare's time. I happened to run into Tom Stoppard in a small bookstore while doing my research and plucked up the courage to say: "Excuse me, I've just been offered your screenplay and I'm wildly excited." He invited me to his house and we talked about serendipity – he was so gracious and kind and insightful.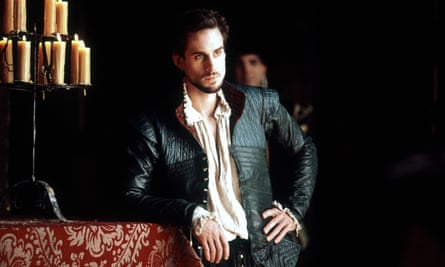 Gwyneth was very well-prepared: her accent seemed flawless from day one. I'd worked with Geoffrey Rush before on Elizabeth and it was glorious to see him do this incredible comic turn as a theatrical entrepreneur, after the machiavellian character he'd played earlier. The backbone of the cast weren't necessarily household names but had done a huge amount of theatre work. It was a joyous environment. We were having so much fun, I worried that the film couldn't possibly be any good.
The jacket costume designer Sandy Powell made for me had a sense of sexiness and was actually quite comfortable to wear. I got to do some great fight scenes in it – kudos to Bill Hobbs, who choreographed the swordplay, and the stuntman who fell off the stage on my behalf, right on to his ribcage. I was insistent that Will's fingers should be permanently covered in ink. If the stains washed off after a day's shooting, I'd make sure they were reapplied before the next.
I shaved off my beard after the original wrap and it had to be reapplied when we were brought back to reshoot the ending. The previous one was more abrupt. I think the bittersweet version audiences got to see was spot on.