BIG CUP IS BACK, BABY!
Since its introduction in 1999, the 32-team group stage of Big Cup has, it says here, produced thousands of moments that will stay with Football Daily forever, and the moment we remember one we'll let you know. Actually, in the early years it was good fun. Who could forget when Sturm Graz lost 5-0 to Rangers and Monaco … and qualified ahead of both, eh? Or when Juventus failed to secure even the Big Vase parachute and Zinedine Zidane decided to see if anyone fancied a tear-up instead. But as football has become more unequal, so the group stage has become less interesting. For the best teams it has about as much jeopardy as an episode of Scooby-Doo.
In time, though, we may look back at the last 10 years as a golden age of competitiveness and brevity. Next year Uefa will launch Bigger Cup, with six more teams, 50% more games and enough overkill to batter the love of football out of every single living thing except maybe Joe Cole. The 2023-24 Big Cup, which starts on Tuesday, is thus the end of an era. Most of the groups look predictable, but there is one spectacular exception: Group F, or if you're a Newcastle fan, Group FFS.
It contains Newcastle, Milan, Paris Saint-Germain and Borussia Dortmund, and is a reminder that one thing money can't buy is an instantly good coefficient. Not yet anyway; that will come when Biggest Cup launches in 2037. Newcastle start their first Big Cup Proper campaign in 21 years away to Milan, a genuinely exciting game that frankly deserves better than 5.45pm BST kick-off, although at least the early start allows us to follow the will-he-won't-he saga of whether Sandro Tonali gets on the plane back to Newcastle or goes into hiding.
Also in action are the holders Manchester City who, Uefa has confirmed, will be seeded in the draw for the round of 16. "It'll be easier," honked Pep Guardiola of their chances of making it two Big Cups in two years. "The most difficult to win is the first one. It's important the players don't feel relaxed. For our club to win [Big Cup] is incredible but in perspective how many clubs have won one [Big Cup]? A lot." The list includes Tuesday's opponents Red Star Belgrade in 1991. But their only Big Cup knockout games since then have been playoffs, and their record in the 32-team group stage era is something even social media's finest shamefaces would struggle to defend: P12 W2 D1 L9 F8 A33. And they haven't met Erling Haaland yet.
LIVE ON BIG WEBSITE
Join Scott Murray from 5.45pm BST for hot Big Cup minute-by-minute coverage of Milan 2-2 Newcastle, while Rob Smyth will be on deck to clockwatch the life out of the rest of the night's action at 8pm.
QUOTE OF THE DAY
"The players are certain that this is yet another strategy of division and manipulation to intimidate and threaten us with legal repercussion and economic sanctions. It is yet more irrefutable proof that shows that even today, nothing has changed" – Jenni Hermoso hits out at the Spanish football federation for putting pressure on her World Cup-winning teammates – who are boycotting the national team until there is fundamental change – by selecting them for upcoming internationals.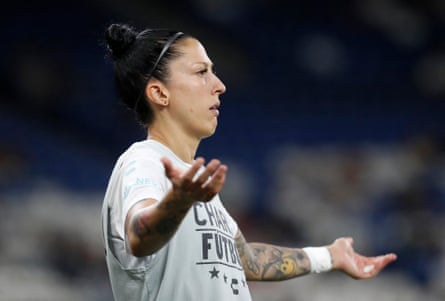 FOOTBALL DAILY LETTERS
Even as a City fan, I find it completely wrong that Pep Guardiola should laugh when asked about Manchester United's title chances. Rolling around on the floor while clutching his sides would be a far more appropriate response" – Neil Bage.
Further to Stephen Rankin's assertions that whistling Danny Boy would be enough to get an Irish cap (yesterday's Football Daily letters), au contraire! Celtic musical knowledge was not a pre-requisite for representing The Boys In Green. There is the (potentially apocryphal) tale of Joe Kinnear, who to be fair was actually born in Ireland but left for England aged seven. Making his debut against Turkey in 1967, upon the conclusion of Amhrán na bhFiann (the Irish national anthem), Joe is alleged to have turned to a teammate and said: 'Blimey, I hope our anthem isn't as long as that!' Twenty-six caps would follow" – Derek McGee.
Your photo feature on Newcastle's European adventures (yesterday's Still Want More, full email edition) had a rather downbeat ending, with a bemused Scott Parker holding the 'trophy' for their Intertoto Cup success in 2006. The design of the item struck me, with the 1-X-2 arrangement in the background being familiar to those of us of sufficient vintage to remember the football coupons in bookies' offices. The design harks back to the tournament's commercially pragmatic origins, which was to provide competitive matches in the summer months for European football pools companies. The tournament ran annually from 1961; Uefa was initially reluctant to get involved but did allow teams to participate. It was 1995 before it was formally brought under the umbrella of official Uefa competitions, and that year also saw the first English teams taking part. Given the widespread debate around the involvement and influence of gambling and its advertising in football, it's another reminder that the links go back far and wide" – Mike Slattery.
Send your letters to [email protected]. Today's winner of our letter o' the day is … Derek McGee, who wins a copy of The Blizzard: Issue 50. Readers can get ?3 off and free shipping for the print edition with the promo code FD3, while those who would rather get the digital version can get ?1 off with code FD1. We've more to give away all week so get tapping those keys.