During the course of the 1980s the pioneering French keyboardist and synth innovator Wally Badarou played on a string of chart-topping singles and albums for artists as varied as Grace Jones, Talking Heads, Robert Palmer, Level 42, Mick Jagger, Herbie Hancock, Jimmy Cliff, Gwen Guthrie, Julio Iglesias and more besides. Despite being in close proximity to such storied musicians, he says that only once during his illustrious career did he know that a song had hit written indelibly all over it: Foreigner's I Want to Know What Love Is.
"It wanted to be that way," he says of the archetypal soft rock power ballad. "And the record company wanted it. The rest, whether it be Pop Muzik, Addicted to Love – that wasn't meant to be a hit – Burning Down the House … I was like, 'Oh, it's a hit. How interesting.'"
Born in Paris to Beninese parents, Badarou's eclecticism was a byproduct of his formative years as a Parisian session player in the late 70s, where he worked on records by the likes of Manu Dibango and the Gibson Brothers, forming a close bond with their producer Daniel Vangarde (father of Daft Punk's Thomas Bangalter). "It was an incredible schooling," he reflects thoughtfully, his considered English accent making him sound like an Oxbridge don. "Because you had to provide. You had to deliver in time as studios were expensive. So, by the time I was working with Foreigner, I knew I could do it, I could adapt."
His musical dexterity was also born of circumstance. His parents, who listened to classical music, moved the family to Benin (then Dahomey) when Badarou was seven. By the time he returned to Paris in 1971, aged 16, he "had synthesised those two cultures – African and European – before I even got into synthesisers."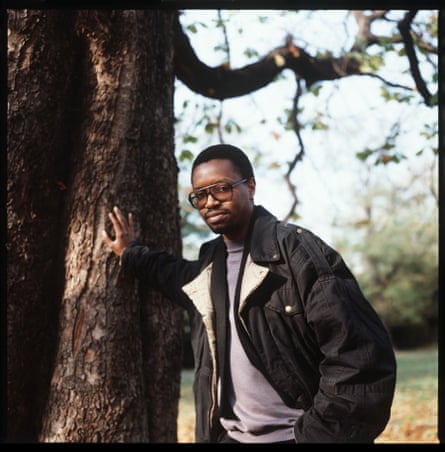 Mastering early synthesisers ("there was little or no memory, so you had to programme everything and then perform it") meant he was in constant demand. On one unremarkable session, save for the fact it was for a porn movie – "it only happened once," he says sheepishly – he worked with British musicians for the first time. A "jazz-fusion style jam" ensued, impressing bass player Julian Scott. He told Badarou about a project his brother Robin was working on. "A few days later, his brother calls me, and I join them in a small studio in Paris. I had just been invited to work on Pop Muzik."
His pivotal appearance on M's radical pop masterpiece catapulted him into the big leagues. Later, when he was working with Talking Heads on Speaking in Tongues, David Byrne quizzed him about the song that presaged the electronic 1980s. "He was always asking how I did it. He said the song was a statement in new ways of making music. I was like, 'OK, maybe!'"
Island's Chris Blackwell also loved the track. When looking for a European synth player to join an ensemble he was putting together at his Compass Point Studio in the Bahamas to assist Grace Jones's creative rebirth after her disco triptych, he asked Vangarde if he knew anyone. Badarou's name came up and recognising that it was the same guy involved in Pop Muzik, "Chris knew immediately" he'd got his man.
Based on nothing more than a hunch – "It was a bet, basically," says Badarou – Blackwell assembled a group of musicians from around the world, what Jones referred to as the "United Nations in the studio". Alongside Badarou were the feted Jamaican rhythm section Sly Dunbar and Robbie Shakespeare, plus their compatriots Mikey Chung and Sticky Thompson. British guitarist Barry Reynolds, fresh from his work on Marianne Faithfull's Broken English, completed the outfit. The Compass Point All Stars were born.
At first Badarou was "unimpressed". Sessions didn't start on time, his accommodation was unsatisfactory and he wasn't used to hanging around. He did his work on what would become Jones's Warm Leatherette and Nightclubbing albums in three weeks; "the other three weeks was just mucking about". He couldn't get back to France quick enough.
Back in Paris, however, he listened to a rough mix of the new wave dub disco of Jones's song Private Life, and his mood transformed. "This was music I had never heard before. We had created something incredible." He soon returned to Compass Point, thus beginning a 14-year love affair with the studio – he built his own studio in his bedroom there – and a friendship with Blackwell that endures to this day. "Whenever we were rocking with Sly & Robbie, he [Blackwell] had that body language and we knew that we were cooking something. It was so uplifting. There were no words."
One day, the pair were on a plane when Blackwell whispered: "'Wally, I believe I have the best band in the world with you guys.' He was genuine. He was serious," Badarou remembers.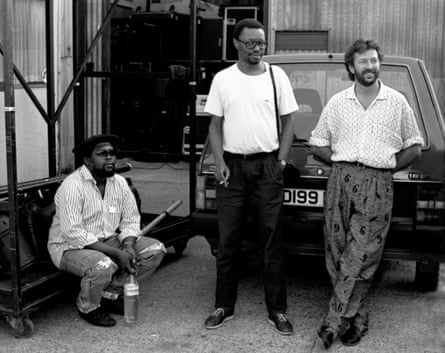 Blackwell is also the reason he's talking today. In 2000, Blackwell's girlfriend Nathalie Delon (formerly married to the actor Alain Delon) filmed a yoga DVD. After becoming good friends 20 years previously as the only French people at Compass Point, Delon asked Badarou if he had any music. He gave her some demos he was working on, not thinking "there was any yoga music in there". Delon loved the atmospheric Afrofuturist sounds and after the DVD was released, a limited CD of the music was issued.
Over the years, the album, Colors of Silence has become something of a holy grail for lovers of electronically adventurous Balearic-tinged sounds: "The music was almost empty, which is close to silence to me," says Badarou. It gets its first vinyl release this month. The demos also form the bedrock of an album, The Unnamed Trilogy, which Badarou has been working on for the last 30 years.
"I have tonnes of music," he says of this unreleased trilogy. "But I decided to keep that magic to me. Magic is the word. It's not perfection. I'm not trying to be the best. I just want it to be magic. Those demos felt magic and 10 years, 20 years, 30 years later are still magic to my ears."
Although far from being a gossip about his years at Compass Point ("I try to refrain from telling spicy stories, as most of the time they involve people having different recollections") he admits Grace Jones was "not my cup of tea". Visitors to his bedroom studio included Mick Jagger and Jeff Beck to work on the former's 1985 solo album She's the Boss – "Jagger surprised me by how hard-working he was; I didn't think he would be meticulous to the point of spending weeks performing and fine-tuning his vocals" – and on another occasion, Paul McCartney, Robert Palmer and Kraftwerk collaborator Emil Schult, while McCartney was on holiday nearby. "Too bad we didn't have smartphones for selfies back then!" Badarou says. "I believe Emil kept a tape of the jam but, as far as I can remember, nothing incredible came out of it."
Another time, Badarou returned to Nassau from Paris on a journey that ended up taking 20 hours – only to be met by engineer Godwin Logie who pressed him into adding some synth lines to a new album by Gregory Isaacs. "The first track was Night Nurse. He asked me for one more song, then two more, then three. Before I knew it I had done the whole album – one take per song. I did not know that Gregory Isaacs was going to be a big name. I just wanted to go to bed and recover." A session with James Brown, though, is a regret. "His manager, Reverend Al Sharpton, declared the music we were working on would be all [credited as] Brown's composition. That was it. The end."
Badarou's music has endured – for example Mambo, a track he cut there for acclaimed solo 1984 album Echoes, became the bedrock of Massive Attack's song Daydreaming – but he is most proud of a moment in 1992 when France held a referendum on the Maastricht Treaty, a cornerstone of the modern European Union. One night while watching the news, Badarou heard his song The Dachstein Angels from his 1989 solo album, Words of a Mountain, playing in the background of a pro-Treaty rally: "They didn't ask permission, but it was great."
Soon after, another guy started using the music – the leader of the far-right National Front party, Jean-Marie Le Pen. "I guess they didn't know who the composer was." When they learned Badarou's identity, they stopped using his music. "I felt proud that day because I had made my point," he says. "It's not where you come from. It's about how you grow and evolve. That's what matters. I've been synthesising all those cultures because I'm European and 础蹿谤颈肠补苍."