Let's be clear. The New York Giants left Washington with a 31-19 win thanks to six takeaways. The defense put on a show with punched out balls and multiple interceptions, including a game-clinching pick six by Isaiah Simmons. It was an inspired performance by a Giants team that surrendered 640 yards and 49 points to the Dallas Cowboys just a week ago, and had a good chance of ending the season with the league's worst record before Sunday's win.
Waiting on the New York sideline to take advantage of the Commanders' miscues was undrafted rookie Tommy DeVito, who had started the season as the Giants' third-string quarterback. Thrust into the spotlight three weeks ago after injuries to Daniel Jones and Tyrod Taylor, DeVito played his best game as a professional on Sunday. He tossed three touchdowns, a feat not often seen by Giants quarterbacks these day – Daniel Jones last managed to do so in December 2019. DeVito, whose initials are TD, also had 246 passing yards and no interceptions.
DeVito and his offensive line weren't perfect but they got the job done. Under any semblance of a pass rush, DeVito went down. He was sacked nine times, several of which were simply down to a rookie who does not yet have a feel for the speed of the game. But when he had time, he made accurate throws, including this beauty to Saquon Barkley for a touchdown.
DeVito, who grew up close to the Giants in New Jersey, has a personality that jumps off the screen and he's winning over fans at every turn. But, until Sunday, the biggest storyline around him was the revelation that he still lives with his parents, a move he told ESPN was a "no brainer."
"Everything that I need is there at the house," DeVito said. "The decision was made since this level of football is stressful for a rookie, especially from the quarterback position. There is a lot going on, a lot of meetings. So everything outside of football is handled by my family." When told that his quarterback lives at home with his parents, Barkley responded with shock. "For real?"
The notion of any NFL quarterback living at home is odd when we hear about the likes of Joe Burrow, Deshaun Watson and Patrick Mahomes signing contracts worth hundreds of millions of dollars. But beyond the conveniences that DeVito crowed about, like having his dinner cooked and laundry done, it makes sense.
Unlike Barkley, who will make more than $10m this year, DeVito is earning $44,000 a game. The second he's not on the Giants roster, he gets nothing. It may feel like DeVito has a bit of a leash given his role in a rare New York win, but we see improbable risers in the NFL quickly tumble all the time.
And even if he survives this season, there are no guarantees his career will be a long one. In fact, the average quarterback lasts just 4.4 years in the NFL – longer than the league's 3.3 year average but not enough time to earn money you can retire with. The numbers are more grave with the rookie wage scale and lack of guaranteed contracts. The NFL is a billion-dollar business and team salary caps are $224.8m but it's not as if that money is equally distributed among players, and those with shorter careers are also the ones who are usually on the lowest salaries.
Earning six figures would make you rich in most places in the US, but in the New York Metro area the cost of living is exorbitant. Not only are rent and home prices sky high but healthcare, food and entertainment costs all come with a "New York premium."
San Francisco 49ers quarterback Brock Purdy can relate. He is making almost $1m this year but in the San Francisco Bay Area that's not an exceptional salary. Purdy is smartly living with a roommate and keeping it simple by driving a Toyota SUV.
DeVito and Purdy's living situations make a lot of sense given their geography coupled with lack of guaranteed money. Purdy will be around the league for a while, but DeVito doesn't know how long his NFL career will last, and the money he earns this year is, make no mistake, very nice. But it's not enough to set him up for life. Why not save while he sees how the future pans out? And it also makes a lot of sense from a psychological standpoint. These are guys in their early 20s, often without partners and kids of their own. The NFL spotlight can be harsh if you don't have a support system. There's no shame in going home and playing video games with your roomie or having your mom waiting with a warm hug and bowl of spaghetti bolognese. Just don't forget to give her a bedtime hug.
MVP of the week
Brock Purdy, quarterback, San Francisco 49ers. Speaking of money-saving quarterbacks: Mr Irrelevant was Mr Perfection in the 49ers' 27-14 win over the Tampa Bay Buccaneers. Purdy's 158.3 quarterback rating makes him the first 49ers quarterback to achieve a perfect rating since a couple of randoms named Joe Montana and Steve Young did it in 1989.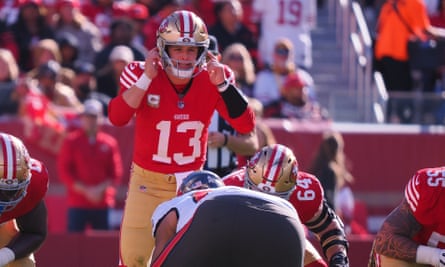 As Purdy's perfect rating would suggest he was pretty much flawless, throwing for three touchdowns, 333 yards, and no interceptions. He has debunked any notion that his carriage is about to turn into a pumpkin. He's seeing the field with precision and is hitting receivers at all angles and distances. Purdy's 76-yard strike to Brandon Aiyuk was the longest TD pass in the NFL this season, at least for a couple of hours until Buffalo's Josh Allen hit Khalil Shakir for an 81-yarder. The question now about Purdy's carriage is whether it will soon be adorned with an MVP trophy.
Stat of the week
48-0. That was the record of teams dating back to 1932 with +3 turnovers and at least 40 minutes of possession in a game. And then the Chicago Bears turned up on Sunday. Chicago absolutely should have beaten the Detroit Lions, but instead ended up losing 31-26 after leading by 12 minutes with only a little more than four minutes left. But Bears head coach (for now) Matt Eberflus played not to lose instead of trying to win. He had an opportunity to put the game away on fourth and one late but instead chose to kick a field goal. It was a decision that made zero sense with an in-form Justin Fields under center. Then with 2:59 left and a chance to put the game away, Chicago went three and out, calling two predictable back-to-back runs, followed by a deep incomplete pass on third and long. Fields, who had played really well, and all of Chicago, deserve better.
Video of the week
Tyreek Hill is a human lightning bolt. Thanks in large part to Hill's speed, the Miami Dolphins won a close battle 20-13 over the resurgent Las Vegas Raiders. At 7-3 (and 5-0 at home), the Dolphins are sitting pretty atop the AFC East with the Jets, Commanders, and Titans coming up on the schedule. Meanwhile, Las Vegas put in another spirited performance under interim coach Antonio Pierce: Dolphins players, including Hill, praised the new-look Raiders: "Their head coach has changed their mentality."
Elsewhere around the league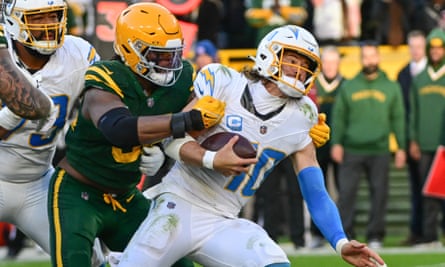 The Los Angeles Chargers had scored the fourth-most points in the NFL but conceded the most across Justin Herbert's first 59 career starts. Sunday was his 60th but this time it wasn't solely his defense that let him down in the 23-20 loss to the Packers, the Chargers' fifth one-score defeat of the season. Keenan Allen dropped the simplest of catches on the goalline (one of two in the red zone), Quentin Johnson let another go through his hands deep into Packers territory on the Chargers' final drive and Austin Ekeler fumbled on Green Bay's two-yard line. The Chargers' three drops were the most in the red zone since ESPN started recording the stat in 2006. At one point the usually low-key Herbert slammed the ball into the ground in frustration and it was hard not to sympathize with an excellent young quarterback who is constantly let down by those around him, including his flustered head coach, Brandon Staley.
The Los Angeles Rams pulled out a come-from-behind 17-16 win over the Seattle Seahawks thanks to a missed 55-yard field goal by Jason Myers, who had converted 15 straight. Los Angeles were helped by Drew Lock, who entered for an injured Geno Smith and proceeded to throw an interception which the Rams turned into a field goal. Smith was fantastic on Seattle's first drive and returned for the last one to set up the potential game-winner. With Seattle's loss, San Francisco now have sole possession of first in the NFC West before the teams' matchup on Thursday night.
Pittsburgh Steelers running back Najee Harris wasn't a happy camper after his team's 13-10 loss to Cleveland. "I'm just tired of this shit," Harris said, in reference to the Steelers' inept, predictable offense. Kenny Pickett showed little juice and only threw for 106 yards. To be fair, he was terrorized by Myles Garrett most of the game (including a safety that was only called a sack). Meanwhile rookie quarterback Dorian Thompson-Robinson earned his first NFL win and Cleveland, winners of five of their last six games, continue to roll.
Josh Allen had a nice bounce back game as the Buffalo Bills toppled the New York Jets 32-6. Buffalo's 32 points were the most allowed by the Jets defense this season. In their defense, they were on the field a lot thanks to one of the most embarrassing quarterback performances by Zach Wilson in some time. He was replaced by Tim Boyle late in the game and, for the first time this season, Jets head coach Robert Saleh refused to say Wilson is the team's starter going forward.
The Cowboys' hybrid, all-everything defensive force Micah Parsons continued his season (and career) of domination in Dallas's 33-10 win over the Carolina Panthers. Parsons had 2.5 sacks, pushing his season total to 10. He is the first Cowboys player in history to achieve double-digit sacks in each of his first three seasons.
Remember the Denver Broncos who conceded 70 points against the Dolphins and then fell to 1-5. They're yesterday's news. Russell Wilson and Sean Payton have led a mini-revival in the Rockies and Denver are now 5-5 after Sunday's 21-20 win over the Minnesota Vikings. They're also in the race for the AFC's final wildcard spot.
A little silver lining for some of the NFL's bottomfeeders (apart from the Panthers). Here's the top five of next year's draft as it stands:
1) Chicago Bears (via Carolina Panthers), 1-9
2) Arizona Cardinals, 2-9
3) New England Patriots, 2-8
4) Chiacgo Bears, 3-8
5) New York Giants, 3-8