What is happening?
Azerbaijan has said its armed forces have launched what it called "local anti-terrorist activities" in the Nagorno-Karabakh region to restore constitutional order by disarming and forcing the withdrawal of Armenian military formations there.
Nagorno-Karabakh is recognised internationally as Azerbaijan's territory but has a mostly Armenian population who have resisted Azerbaijani rule for more than a century. In 1991, the region of about 150,000 people declared independence and since then it has ruled itself – with Armenian support – as the unrecognised Republic of Artsakh.
On Tuesday, as the operation began, Azerbaijan's defence ministry spoke of its intention to "disarm and secure the withdrawal of formations of Armenia's armed forces from our territories, [and] neutralise their military infrastructure".
Despite signs in the past of possible progress towards peace, one of Europe's "frozen conflicts" has erupted again.
What is the background?
Nagorno-Karabakh, a mountainous, landlocked region inside the borders of Azerbaijan, has been a source of dispute since before the creation of the Soviet Union. Tensions were suppressed when Armenia and Azerbaijan were Soviet states, but they re-emerged as the cold war ended and Communist party control of the bloc dissolved.
A war between Armenian and Azerbaijani forces ended in a ceasefire in 1994, with Armenia in full control of Nagorno-Karabakh and other surrounding enclaves of Azerbaijan's territory.
In 2020, after decades of intermittent skirmishes, Azerbaijan began a military operation that became the second Nagorno-Karabakh war, swiftly breaking through Armenian defences. During the 44-day conflict it took back seven districts and about a third of Karabakh itself.
Russia, a treaty ally of Armenia that also has good relations with Azerbaijan, stepped in to negotiate a ceasefire.
The deal provided for about 2,000 Russian peacekeepers to deploy to Karabakh to guard the only road left linking the enclave with Armenia – the so-called Lachin corridor.
In December 2022, Azeri activists backed by the government began blocking the Lachin corridor, and in April 2023 Azerbaijan established a new security checkpoint along the route. These moves have cut off the flow of people and goods between Armenia and Nagorno-Karabakh, except for urgent medical evacuations, creating what the US and others have called a "rapidly deteriorating humanitarian situation".
Luis Moreno Ocampo, a former chief prosecutor of the international criminal court, described the blockade as potentially constituting a "genocide" of Karabakh Armenians and intending "to starve" them.
Azerbaijan is majority Muslim and Armenia is majority Christian, and some on both sides have sought to cast the conflict in religious terms, though analysts say this angle is exaggerated (Azerbaijan, for example, maintains strong defence ties with Israel).
Why are they fighting now?
The renewed fighting suggests that Russian and western efforts to negotiate a diplomatic outcome between the two sides have failed.
Armenia has for weeks warned that Azerbaijan was moving troops close to their joint border, considered one of the most militarised in the world.
By launching its so-called "anti-terrorist activities" Azerbaijan wants to force Armenia to recognise its sovereignty over Nagorno-Karabakh. Azerbaijan has also been seeking to construct a road and rail corridor that would connect it with Nakhichevan, a separate piece of Azerbaijani territory on Armenia's south-western border, which would give the country a direct link to Turkey.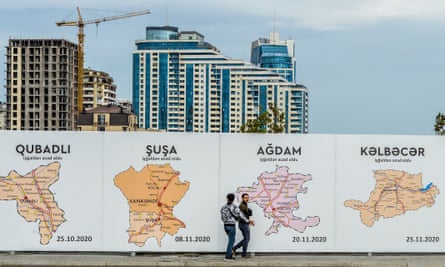 Other than the humanitarian issue, the conflict sparks international concern for several reasons. The major one is that regional powers including Russia, Turkey and Iran are invested in the South Caucasus to varying degrees.
Turkey has already declared its staunch support for Azerbaijan, while Russia has a security alliance with Armenia, though it sells weapons to both countries.
The EU, while pushing for talks, has come to rely on Azerbaijan in its search for energy partners, to compensate for the loss of Russian gas and oil imports since the start of the war in Ukraine.
Is Russia losing influence?
Azerbaijan's decision to launch a new offensive suggests that Russia, distracted and drained by its costly invasion of Ukraine, is losing its grip on countries across the former Soviet region that it has considered a sphere of influence.
The Russian president, Vladimir Putin, personally brokered the end of a war between the two in 2020 and deployed 2,000 Russian peacekeeping troops. At the time, observers said the peace deal gave Moscow renewed influence over the region, while deepening the reliance of the two countries on the Kremlin.
But Russia's disastrous invasion of Ukraine deeply troubled both countries, which have since sought to diversify their foreign policies away from strong dependence on Russia.
Azerbaijan moved closer to Turkey and Israel, buying weapons from both countries.
Armenia has made several demonstrative moves criticising and distancing itself from Russia, while courting influence in the west.
Earlier this month, the administration in Yerevan announced it was hosting US soldiers for an unprecedented joint military exercise. Armenia has also sent humanitarian aid to Ukraine, which was delivered personally by Anna Hakobyan, the wife of Armenia's prime minister, Nikol Pashinyan.